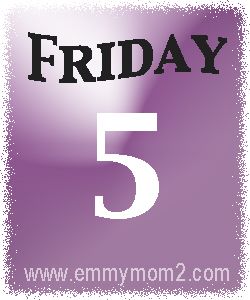 When I opened to read blogs this morning and saw one of my best friends,
Stef
, had linked up with
EmmyMom
's Friday Five, I hit "save" on the post I was working on. I haven't done a link-up in a long time and thought this one was right up my alley! I've followed
EmmyMom on instagra
m for awhile, but duh, never added her blog until now. Instagram is my fave!
5 Thoughts:
1~ Laundry is my nemesis. That being said, I have to pack myself and 3 kids for 3 weeks time. That is a lot of laundry. Though heading to Arizona is the prize and I'm excited about that! It's been 5 years since I've been there--I can't wait to visit and have the girls meet their cousins and uncles and aunts!
2~ I have been binge watching tv at night after the kids have been in bed and my husband at work.
Sidenote: shiftwork, sucks.
Having gotten rid of cable last year, we've kept Netflix and we stream shows as well. I don't know that we'll ever pay all that money for cable again. Anywho... I obsessively watched Scandal! I have NO idea why I never watched it before. It is sooooooooooo good! I finished it a few weeks ago and have been thinking about it nonstop! The other show I finished was Orange is the New Black. I liked it, but didn't love it! It kept making me mad. And I know
for
sure, I'd never survive in prison!
3~
Lily
is without a doubt a product of her parents.--she has a definite musical ear. When her Daddy is playing guitar, she wants to pick along with him or grabs the microphone and sings something along side. When
Violet
is crying, she sings "You Are My Sunshine" and says, "
That will make her feel better, Mommy
." She is typically singing all the time. Sometimes it's actual songs, sometimes it's humming along to the music, sometimes it's made up songs. Could be songs from a movie or show she's watched, could be something she heard in
Andrew
's room, could be Taylor Swift, or could be something she's just made up. It's just always something. I love this about her!
4~ Next month, we celebrate our 4th anniversary,
George'
s 40th birthday, and
Lily
's 4th birthday...all in one week! It's a busy one! I'm excited!
5~ I have to get this blog design completed and update the information, pictures! It's driving me ca-razy!
5 pictures:
My love and I recently celebrated 7 years together from the day we met in person! What a crazy journey it has been!
Some days this is what life looks like. No nap, exhausted girls. Real life.
And there are also moments like these. ♥
We walked into Target the other day and
Lily
started singing, "But first. Let me get an icee." to the tune of that ridiculous Let Me Take a Selfie song.
Andrew
's home after his first summer trip to visit his Dad. He went to Tennessee, South Carolina and Florida.
Happy Friday!