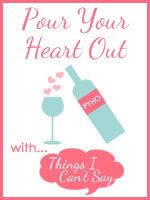 Click on the box above to link up at Shell's for this bloghop and connection...
I decided that I really wanted to participate in "Pour Your Heart Out" because, honestly, that is why I write. Simply. Sometimes it's funny. Sometimes it's heartbreaking. Sometimes it's inspirational. Sometimes it's happy. All the time it's honest and a place for me to clear my head and my heart. The subject of this blog entry has affected EVERY aspect of my life, including both of my pregnancies in the last year.
I have a happy life--a great man, who adores me, wants to marry me, loves my son as his own, ensures we are taken care of in every way and is the father of my unborn daughter. He is the man I hear when I listen to music, that I dream of sitting on our front porch with when we're old, that I walk beside in every part of my life. I have a son who means the world to me. Everything I do, I do for him. There are not enough words to describe the love one has for a child. I am so happy to have a partner to share in that. I have a stepdaughter whom I love as my own and have, seemingly from the moment I met her half her life ago. She is a part of our family in every way. I am pregnant after experiencing a miscarriage. I love the baby we miscarried and I am in love with this baby in my belly now.
I also have a
really
ugly part of my life. Evil ugly. It is poisonous and vile and dark and disgusting. I don't hide it, but I certainly don't advertise it either.
In most instances, one can simply just make adjustments and shed the diseased portion of their lives. In this instance, I cannot. Sure, I could walk out on my life --my fiance, my home, my stepdaughter, my unborn baby having her family. But, you see, that's really not an option.
Custody is difficult. It doesn't have to be a battle. It doesn't have to be a control factor. It doesn't have to be something that people use to try to destroy others. As cliché as it sounds, the person who truly suffers is the child. Well, after the molestation accusations, and physical abuse accusations, Children's Services coming into our home multiple times to investigate those accusations, the police, social workers, countless hospitals, calls to insurance companies accusing fraud, calls to the health department accusing us of having mold, background checks, criminal history reports run … I'm sure I'm forgetting a dozen things… it can take a toll on a person, so custodial disagreements can and do affect others besides the children. Honestly, do you think you'd really be at your best in the middle of all of that?
The weekend following the accusations towards me, I was fearful I would be arrested. Me.
I have NEVER been in trouble in my life. EVER. I have never smoked, done drugs, been in any legal trouble of any kind ever. I consulted a criminal attorney to protect myself, my family and my career. He was very helpful and fortunately, I did not need to retain him as the truth protected me.
I saw my fiance in a different light as well. He was so protective of me and scared for me. We both wandered around our house, not knowing what to expect, trying to get involved in a project, watch a movie and reconnect and just sit together holding each other in silence. Oddly enough, in all of the mother's attempts to drive me away, she did the opposite for my relationship and my family. We relied on each other for strength and support and we are closer because of it.
That has been the ugly, evil part of my life for nearly 3 years…
And it happened almost from the beginning. When I met my stepdaughter, we spent the day together with my then boyfriend now fiance. It was a comfortable and happy 1st meeting. A few weeks later when I saw her again, the very first thing she said to me --not hi, hello or anything similar --was "You're not my mommy." So at not quite 3 1/2, that was what she learned from her mother after meeting me for the 1st time.
I've endured a mother screaming obscenities at me in front of the child, a grandmother (ordained minister) putting her hand on a bible swearing I sexually abused her granddaughter, a husband threatening me in front of my home, a legal system that did nothing when a mother violated countless court orders, not seeing or speaking to the child for 6 weeks despite a court order ensuring she'd be with us, Children's Hospital and Children's Services questioning what occurs in my home based on all those accusations.
I'm able to speak freely about it. It's ALL been proven UNFOUNDED. I'm not a child abuser of any kind. In fact, I am a teacher. I nearly lost my family and my career because of this evil that lives in this woman seeking to destroy everyone around her, especially her own child. However, I believe that good triumphs over evil and that's actually what has happened in our case.
I'm not proud that I have this portion of my life. It's embarrassing, disgusting and stressful. We wholeheartedly believe the stress of our trial in court, the accusations that we endured and proved were false and the entirety of this bullshit, is what led to our miscarriage. Swallow that. One more thing to chalk up to the ugly part of my life. And then we're supposed to live without resent? Ironically, I've got that covered. I don't resent her. I don't care about her at all. It's sad that she has nothing in her life that her mission to destroy others is what drives her.
She writes about me, accuses me, claims I had a fake pregnancy, asks unimaginable questions of her own child, willing to put her child through hell, all in the name of what? I used to think she truly loved her child. I haven't for a long time. Honestly, it was when she was willing to put her child through a potential physical sexual exam to "win". I realized in that moment, she doesn't care. Fortunately, the child didn't have to endure that trauma at age 5, but she will always know that on her 5th birthday she spent the day with her mother and a Children's Services worker, saying I abused her.
Oh we've tried to get this child into counseling. Can you guess what we've been met with? Opposition. Who wouldn't want their child to have a place to discuss all this chaos where they felt safe and didn't have to choose sides? Hmmmm….someone who has something to hide, I might guess.
It has been shameful to share what we have been through with my friends and family at times. I'm not even certain why…because all we've tried to do is the right thing. No false accusations, no bullshit. I guess just because it's so unbelievable that it's like a Jerry Springer Show or a Lifetime Movie.
I am not ashamed anymore. I have no interest in pretending my life doesn't have this ugly element. It's a part of it. I don't like it. I wish it were different. Not for my lack of trying, I will say. Some people thrive on drama and pain and hurting others. I'm just not one of them.
When I miscarried, my "fake" pregnancy last summer, this mother knew because my stepdaughter shared it with her. That didn't bother me at all. In fact, she asked me if she could tell her mother and her dad and I told her that it was part of her life too and it was ok. Shortly after, it was said to me by the mother (online, of course) "You're a sick fuck. How's your pregnancy going?" That pretty much sums it up. That is what I deal with. Disgusting. Evil. Vile.
Sometimes it has really gotten to me and I quit biting my tongue and started saying what I think about her. It's always the same result as biting my tongue. You cannot reason with a person who is crazy. I learned to quit trying a long time ago.
I still have a happy life. It just has an ugly piece in it, that will be there for life. I'm not leaving and after all the accusations and attempts to run me off, one would think she'd realize it, but I'm not going anywhere.
We've been through every legal channel there is…Superior Court agreed with the trial court when the mother didn't like the result of the trial and appealed it. In fact, 3 Superior Court judges basically said, there was no legal argument , but rather she spent 25 pages complaining about my relationship with my fiance.
It makes me so angry when I hear of other people going through anything like this.
No one
should have to endure this.
I'm divorced.
I have an ex-husband who is a part of my life because we share a child. Here's the contrast in the exes in my life. One, I have described above. Mine is this: he and his fiancee shared Thanksgiving dinner with us. They live out of state, but we have a parenting relationship. It's not always easy, but we all have our son's interests first. That year was his birthday on Thanksgiving and in order to make it the best for him, we celebrated together. It's very normal for my son. My stepdaughter said she told her mom and the response was, "Well, that's weird." No, what's "weird" is the continued emotional and mental harm that is being done to my stepdaughter.
My job as a parent of these children is to protect them. One I can. One I can... half the week. Imagine that frustration. I pray a lot. God has been good. When I was accused of abusing my stepdaughter, my fiance was ready to pull the plug on our seeking shared custody of his daughter and simply keep the partial custody we had. I thought he was going to have a heart attack that day in court. Literally.
I explained to him that the accusation was now "out there" and pulling the plug wouldn't change the accusation and now we had to let the truth be shown to protect all of us.
Remember the story "The Boy Who Cried Wolf" ? Yeah, that's pretty much this mom. One accusation after another and now it's at the point where we have history behind us to help protect us when the next one comes along. I will say, that major one about me was encouraged by the ethics of the attorney she hired, but for REAL sexual abuse victims, they should both be ashamed for slapping them in face by making false accusations.
I am a strong woman. I have been strong my entire life. This has not and will not destroy me. It has changed things about me, but it has not destroyed me. My relationship with my fiance is stronger…you know that saying of "this will either make or break your relationship"? For us, it literally drove us closer together. There was no one else to truly understand and comprehend what we have endured. I have had many friends say, "You're a better woman than I am, I would have left a long time ago." My thoughts are that it doesn't make me a better woman, just a woman who fights for what is right and who truly found the love of her life. Yeah, he came with baggage. But, we all do. Most people's baggage isn't so costly, is all.
This is simply a window into the side of my life that exists, but does not rule my life.
As I said, I have a happy life with the man I love and children I love. I pray for peace for my stepdaughter, as she is the one in the middle. My fiance, my son and myself don't have to live that. The 3 of us have put the crap behind us and deal with it when we have to. Unfortunately for my stepdaughter, she doesn't have that option --it is her life. We try to make the best of it with her and have spent 3 years ensuring she knows she is part of our family---not here for "a visit" as her mom tells her. I'm sad for her --never having peace, always feeling she has to choose, trying to please instead of simply being a kid. The most used phrase in our house with her, "You're the kid, let us be the grownups."
If you've gotten to this point, thank you for reading.
I wrote this for me. Rest assured, I know the mom will read it and try to use it against us in some form, but I haven't written untruths and my life is not dictated by her no matter how much she tries to control everything.
I have no qualms stating that I have been furious, scared, heartbroken, outraged, disgusted, hopeless and a myriad of other emotions over the last 3 years. I'm not too prideful to say that she has hurt me because I would be inhuman if this hasn't affected me. I don't pretend my fiance and I haven't argued about all this bullshit or that it has made me question things about our lives. I am, however, absolutely secure in our relationship and our life together and we have been given undeniable proof that Satan exists and also that God exists. Prayer and faith is what has saved us from all of it.
I am an eternally optimistic person and I know God will continue to prevail.