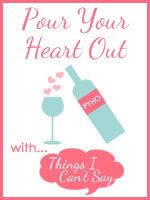 It's always interesting when you meet someone and spend time learning about each other, developing a new relationship and some of the patterns of behaviors that often both people tend to repeat from their previous relationships. Of course, initially both are putting their best foot forward, expressing the "who I am" along the way and the negatives don't typically show their colors until a little later into the relationship.
My fiance and I met online. Not on a dating site. It was as random as "meant to be" can truly be.
We became "friends" online which in itself was strange because I never initiated online "friends" with men I didn't know and he didn't accept people as "friends" he didn't know. But we both did this time.
The reason I did was because he used to write some really funny, sarcastic blogs that I found entertaining. I read them for a little while, never commenting, then one day he was private. I was bummed. But decided to ask for permission to continue reading. I didn't send any explanation or message, just a request. He accepted.
3 months later, we had our first communication. I received a message from him asking me how I knew someone specifically. I was dumbfounded. How did HE know this same person???? We lived across the country from each other and the person we both knew, didn't live in either place.
We emailed back and forth a little bit that night both pretty amazed by the "of all the people in the world, how do we both know him" coincidence.
We didn't email for a couple weeks, then one night I got a short email purely comedic and sarcastic. We've spoken everyday since. We started out talking via email, then via instant message and very shortly after via phone.
For hours.
Everyday.
We had a 3 hour time difference, kids, and jobs to account for, yet we found time everyday to talk, text, IM and email. We primarily talked about our lives, our experiences, our kids --general getting to know you things and developed a fast true friendship. It didn't take long before we both began to realize that we were feeling deeper than friendship. We had made plans to meet. As a kindergarten teacher, I had the summer off and arrangements were made for me to come to Pittsburgh.
For this post's purpose, I'm skipping from there to a couple years later.
After our initial connection, falling in love, moving, blending our family, working on all the varying relationships in our family, the evil and adversity we faced, we saw all sides of each other ---the good, the bad and the ugly. How we were brought up, the types of relationships we were in previous, fears all were a part of our continually learning about each other.
I am a "why" person. I like to understand why things happen, why people are the way they are etc. Obviously in this --one of my most important relationships--that was no different. I am a pretty patient, tolerant person. I look at the big picture. I had insecurity left over from my marriage, I hadn't yet uncovered. G had walls he hadn't yet let crumble. I truly am so thankful that we committed to communicating with one another to get through all of that…together.
In disagreements, some of those previous patterns of how we argued in our past emerged. Very quickly they were reigned in and discussed. The level of respect and love we have for each other and our life together was more valuable than "winning" an argument. We had to learn our own new patterns.
After our tumultuous time in family court, accusations etc that we endured, as I have said before, we had changed in some ways. We have worked extremely hard to always reconnect whenever we've disconnected. We both decided very early on that we have too much invested and love each other too much and splitting up just wasn't an option. We are committed to one another an our life together.
Despite us agreeing to that, feeling that, living with that commitment, it doesn't always erase the fears and insecurities we both entered with…especially in some of those dark moments we endured.
G
is my heavy, raw metal loving music man. I'm his lyrically emotional country loving woman. We've had many discussions about music during our relationship and both love and appreciate it…differently. Boy, do I melt when he plays guitar. There are some songs, artists and lyrics we both appreciate…but very few overlap.
One day,
G
said to me, "I really like that new P!nk song." I said, "I haven't heard it."
I didn't think much about it. (She's one of the artists we both appreciate. The texture of her voice, primarily.)
A couple weeks later, I was driving on a short road trip and as soon as I had gotten in the car that early morning, I turned on the radio and THAT P!nk song he was talking about, started playing. I knew it instantly.
Tears streaming down my face.
In this song, she captured HIS fears and insecurities about our relationship. She didn't do it wimpy and girly. She did it in her raw, honest portrayal.
It was an insight to his past, his present and the future he desires.
We have a real relationship --filled with ups and downs, honesty, happiness, sadness, hurt feelings, love, honor, respect, misunderstandings, communication and everything in between. We were meant to be together and will continue to work together to honor our lives together.