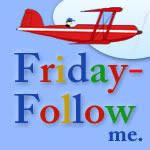 Click on the button above to link up, find other blogs/bloggers to read, and you never know...you just may make a new friend, find something interesting to read, someone that you connect with or touches your life.
I'm not usually a participant in blog follow bloghops...
I blog for
me
and if people read, I think it's great, but even if I have no one reading I still will write. It feels like some of why I invested in marching band in college instead of joining a sorority. (I have NO issues with sororities....it just wasn't for me jsyk. :) )
Like I always tell
Ian
, I'm happy being a well kept secret. :)
However, I like and appreciate the reasoning for this bloghop's invention and as a result, I'm going to join and support it!
Here you'll find a 37-year-old mom of a 10-year-old son, bonus mom of a
6-year-old girl and 31 week preggers with a baby girl who is engaged to her soulmate --it only took 34 years to find him --writing about my pregnancy, my kids, our family.
Some days it's all about baby and pregnancy, some days about the drama that comes with having split families, some days just rambling, and some days about the peanut butter and jelly sandwiches I eat EVERY SINGLE DAY during this pregnancy.
Regardless of what you find, it will be honest and real.
Thanks for stopping by!
Happy Friday!