While I'm working on catching up on my blogging (like yesterday's Labor Day Kennywood visit):
http://gotonepastgoalie.blogspot.com/2010/10/day-of-amusement.html
...I decided to participate in
5 Question Friday
. I've been following her blog for some time, but this is my first participation. Frankly, I loved her answer to the 1st question and decided to link up today. :)
Happy Friday!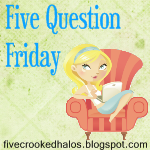 1. What do you listen to while driving?
~If
Andrew
is in the car, we typically listen to Sirius Hits 1 --you know, the station where they play the same 20 songs OVER AND OVER AND OVER AND OVER. We rotate between that, "The Highway" and "The Pulse" with a dash of "80s" and "90s". His "new" favorite song: Kris Kross "Jump". Thank you, Sirius Radio.
When I'm alone, I tend to listen to "The Highway" (current country) and "Prime Country" (90s country) or a cd...I have so many mix cds in my car that I love to pop one in and think about why I made that soundtrack of that time in my life.
2. What is your least favorite thing about Fall?
~
Currently, I will have to say the bipolar weather. Seriously, it's been FREEZING and rainy for days and this weekend and into next week will be mid to upper 70s. ANNOYING.
3. What does your dream house look like, inside and out?
~
Honestly, my dream house requirements are minimal. As cheesy as it sounds, I've already gotten the majority of it in my life now--a house filled with love.
I wish for
dreamy
practical things like:
a laundry chute or the laundry room on the same level as the bedrooms, awesome counterspace, big bedrooms with good closet/storage space.
Has to have a front porch and a little piece of land.
Give me the simple life.
I'm a Southern girl at heart....probably why I always felt at home when I lived in Tennessee.
4. Would you ever own a minivan?
~
I did and I loved it!
It was stolen. (I lived in Arizona at the time. The police told me, "It's probably in Mexico now.")
It was recovered 3 months later, 1 mile away. Thanks for your help, officer.
5. Do you wash new clothes before wearing them?
~Sometimes. I always wash my baby's clothes before she wears them and always wash underwear for
ANY
member of my family before wearing.
Click on the 5 Question Friday button to link up!