I don't do these all the time, but when I like the questions, I join in. :)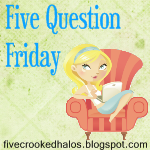 1. If you could have any talent and turn it into an occupation, what would it be?
This is a hard question because I LOVE my chosen career--teaching. (On hiatus right now, however. :) )
I am one who doesn't believe in waiting for life to pass by. I moved to Nashville when I was 22 to pursue a singing career. One of the best decisions of my life! Obviously I'm no country star today, but the experiences and the people I met shaped a lot about my life. And combining music in my teaching is a benefit to me and to my students!
So....the only other dream I truly had was to put music to movies. I'd love to put the score and the perfect song that completely captures the emotions of scenes in movies.
Yeah, I'd love that!
2. Would you rather have a house at the beach or a cabin in the woods?
For myself I'd say both, as I love both equally. However, for my family --especially my husband, I'll say a cabin in the woods. He loves to fish and the kids and I do too. Plus, I love the seclusion and coziness of the cabin idea. :) We'd just have to visit the beach and I'd be content.
Sounds like a good compromise. :)
3. Is there any meaning or reasoning for the names you chose for your child/children?
My son's 1st name is his father's middle name. We both liked it. It was a last minute choice. :) The entire pregnancy, his name was something else and it just wasn't him.
Andrew
fits him perfectly. He doesn't go by Andy or Drew...simply
Andrew.
His middle name is my maiden name. My ex husband and I agreed on our son having both of our family names. It's perfect.
My daughter's name came from a dream I had when I was 8 weeks pregnant. I dreamed we were having a girl and we named her
Lily.
I told my husband the next morning about the dream and he said, "I like that!" And 4 weeks later via CVS (not the pharmacy) we found out we were expecting a girl and we knew that was her name. We never looked for anything else. Her middle name:
Katarina
was also a joint choice. We both loved it. She's a 4 name baby. :) She, too, carries my maiden name as her 3rd name.
4. What is your guilty pleasure? (I know we've done this one before, but I'm guessing people's "guilty pleasures" change frequently. At least, mine do!)
I couldn't really think of any guilty pleasure other than a tv show, so I'm sticking with it... I LOVE Teen Mom and 16 & Pregnant.
yeah, yeah, I know. But, I doooooooo.
My husband laughs at me, but secretly he pays attention.
5. Do you live in a house that is deep cleaned or straightened?
Deep cleaning happens a couple times a year...floors more often now because of this baby girl we've been blessed to have! But, for the most part, just straightened. :) And I'm ok with it. I'd rather live my life spending time and making memories with my family! They're only little for so long and in the end of my life, I will not want to be wondering if my children created a lifetime of memories of us spending time together or whether mom did the laundry like a nazi. (Laundry is my nemesis, so I'm picking on it.)
Happy Friday!