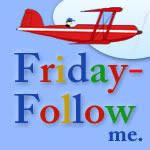 It's an invitation you to join every Friday to get more blog followers and to find many interesting blogs that you like. This is all about sharing and having fun.
Click on the "Follow Friday" button at the top to link up and find new blogs to read. You never know the connections you may find! :)
Thanks for stopping by and taking a minute to read about my pregnancy, my thoughts and my family!